Blush Wines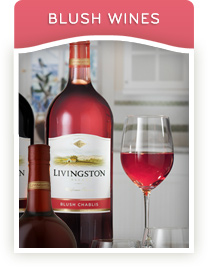 These versatile wines can be enjoyed on a hot July day or a crisp autumn night. Complements spicy Asian dishes, light salads, chicken kabobs and more.
White Zinfandel: The light fruit and strawberry notes of our White Zinfandel make it one of our most popular wines. Served chilled, it can fit any occasion.
Blush Chablis: With subtle flavors of fresh red fruit, our California Blush Chablis is the sweetest tasting of our Blush offerings. Its light body and soft mouthfeel make it a wine that is great both with and without food.